Infinity Reference 152 5.25inch 2-Way Bookshelf Speakers (Pair)
Limit 3 per customer
Hurry only 1 left!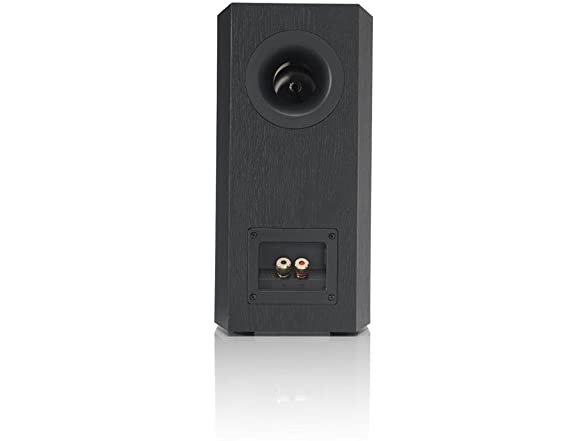 Features
Get ready for a sonic revolution. With the R152 Bookshelf Speakers, Infinity has drawn upon their legendary history and combined science with art to create loudspeakers that break new barriers. From petite bookshelf speakers that bring you the latest, patented surround design and elegant, tapered cabinets. It's pure genius. And the purest sound. 1" (25mm) CMMD tweeter with advanced waveguide The combination of the acoustical science and patented designs found in the 1" (25mm) CMMD (Ceramic Metal Matrix Diaphragm) tweeter and advanced waveguide provides seamless sonic integration with the CMMD woofer while providing excellent high–frequency detail and smooth coverage across a wide listening area.
5.25" (130mm) CMMD high–output woofer with tuned–port enclosure Powerful bass is key to a high–quality sound experience and the strength of Infinity's extremely rigid woofer cones – constructed from CMMD (Ceramic Metal Matrix Diaphragm) – help to deliver a wide frequency range with minimal distortion. These woofers work in conjunction with the tuned–port enclosure to provide powerful deep bass that makes your music and movies come alive. Computer–optimized driver positioning and network integration Infinity's advanced acoustical modeling design places the drivers in the ideal location within the cabinet allowing them to work with the enclosure and not against it. The advanced positioning and crossover network integration reduce harmful sonic artifacts that would otherwise detract from the overall performance of the loudspeaker. The end result is balanced, accurate sound with lifelike imaging and soundstage that brings the musical performance right into your home.
Sleek, contemporary enclosure design The slim profile of the R152 is complemented with a rich, black woodgrain finish and hidden fasteners that provide for a clean look that blends easily with any décor.
Elegant design details The waveguide and woofer feature black chrome trim rings while the waveguide surface is finished with a rich, soft–touch paint. The silver phase ring highlights the CMMD tweeter mated to the waveguide. Brushed trim with an embossed Infinity logo highlights the grille and completes the elegant design.
Designed and engineered in Northridge, California Infinity loudspeakers are designed and engineered in Northridge, California at our world–renowned Acoustic Engineering Center of Excellence. Every new product is evaluated and scrutinized against the competition and our own stringent standards to ensure that its acoustic performance is best–in–class.
Shipping Note: Shipping to Alaska, Hawaii, and PO Boxes is not available for this item
Specs
Full Specs HERE
What's in the Box:
R152 bookshelf loudspeakers (pair)
(8) Rubber feet
Owner's Manual
Specs
Full Specs HERE
What's in the Box:
R152 bookshelf loudspeakers (pair)
(8) Rubber feet
Owner's Manual
Best sellers in Electronics
Deals our customers love best.